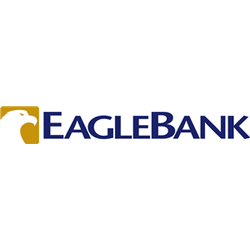 EagleBank
Business Application Analyst
Sorry, this job has expired.
Silver Spring, MD
Position Type
Full-Time/Regular
Job Location
11900 Bournefield Way, Suite 150, Silver Spring, MD
EAGLEBANK OVERVIEW:
Eagle Bancorp, Inc. headquartered in Bethesda, MD, was incorporated in 1997 to serve as the bank holding company for EagleBank. Eagle Bancorp is a publicly traded company under the symbol EGBN. EagleBank commenced banking operations on July 20, 1998, and currently operates 20 banking offices: six in Suburban, Maryland, five located in the District of Columbia; and nine in Northern Virginia. The Bank was founded to specifically address the business and personal needs of local business owners. It has been answering and exceeding those needs for over 20 years, providing custom financial solutions, local access to senior management, quick response, local decision-making, and a deeply-rooted dedication to the local community.
Our Mission is to be the most respected and profitable community bank by putting relationships first to the delight of our customers, employees, and shareholders, and relentlessly deliver the most compelling service and value. Eagle Banks Values are: Relationships FIRST: Flexible, Involved, Responsive, Strong, and Trusted.
GENERAL SUMMARY:
Administers and supports several critical bank systems, including but are not limited to, Teller, Retail Branch Automation Platform and workflow system, Cold report and Imaging system, File Transfer systems, retail security system and SharePoint Intranet site. Understands customer needs and provides end user support for the retail banking systems, core banking system and imaging system.
MAJOR DUTIES AND RESPONSIBILITIES:
Provides application end user support for all systems assigned and researches system functionality to troubleshoot issues and addresses questions on system workflows. Works with application vendor support staff, network vendor engineers and internal IT staff on application issues. Performs testing after network system changes or upgrades to operating systems.
Modifies Teller and Branch Platform Automation system configurations. Reviews system change requests and updates branch forms into PDF format. Documents detailed software requirements specifications from a technology perspective for Branch Platform Automation system and Teller system. Performs authoring changes to the Branch Platform Automation system (DO/SRM) for form modifications or additions and new products or services. Provides software development support including responding to operational issues and testing. Participate in system upgrades including initial testing of functionality, working with users for acceptance testing and supporting the training department.
Performs daily security access reviews of core data processing systems and GL reports for anomalous activity. Conduct system user access audits annually.
Maintains the Barr system including monitoring for successful transfer of files, daily printing of bills, notices and checks for to Deposit Operations and Loan Servicing departments and reprocesses files when needed.
Serve as daily system administrator of the banks imaging system. Reviews imaging system for availability and interfaces processing exceptions. Provide backup for creating new security groups, reports and other bank controlled customizations.
Assist with the administration of the banks SharePoint intranet site. Create sites on the intranet, assist department site administrators with customizations and update page content as requested by management.
Supports management of all aspects of the software/application lifecycle, licensing, patching and vendor management.
Required Education/Experience:
High School Diploma
4 years of financial institution or finance related experience; Customer Service or Assistant Manager preferred
Experience in one or more of the following:

Teller or Customer Service in bank branch
Software configuration and testing
Help desk support
Business Analyst
Preferred Education/Experience:
Associates degree in information management, computer science, business administration
Required Certifications, Licenses or systems needed :
Required to obtain FIS Authoring and Configuration certification within 6 months of start date
Preferred Certifications, Licenses or systems:
IBS Core Banking System- Platform and Teller functions
Microsoft SharePoint experience
80960108
80960108