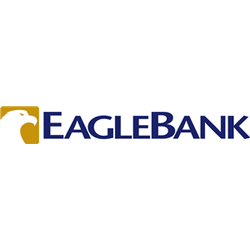 EagleBank
Project Manager II
Silver Spring, MD
Position Type
Full-Time/Regular
Job Location
11900 Bournefield Way, Suite 150, Silver Spring, MD
EAGLEBANK OVERVIEW:
Eagle Bancorp, Inc. headquartered in Bethesda, MD, was incorporated in 1997 to serve as the bank holding company for EagleBank. Eagle Bancorp is a publicly traded company under the symbol EGBN. EagleBank commenced banking operations on July 20, 1998, and currently operates 20 banking offices: six in Suburban, Maryland, five located in the District of Columbia; and nine in Northern Virginia. The Bank was founded to specifically address the business and personal needs of local business owners. It has been answering and exceeding those needs for over 20 years, providing custom financial solutions, local access to senior management, quick response, local decision-making, and a deeply-rooted dedication to the local community.
Our Mission is to be the most respected and profitable community bank by putting relationships first to the delight of our customers, employees, and shareholders, and relentlessly deliver the most compelling service and value. Eagle Banks Values are: Relationships FIRST: Flexible, Involved, Responsive, Strong, and Trusted.
GENERAL SUMMARY:
Assist with oversight of projects in accordance with the EagleBank Project Management policy. Serve as Project Manager for Bank projects as assigned. Independently manages key corporate projects which often impact large segments of the organization or have a significant level of impact to the customer and/or systems. Manages the process and assists the project owners to ensure deliverables fall within the applicable scope and budget. Coordinates with other departments to ensure all aspects of each project are compatible with respect to risk, due diligence, manpower and resources. May lead or coach Project Managers on larger projects under their responsibility. This role spends a significant amount of time leading others outside of the PMO department.
MAJOR DUTIES AND RESPONSIBILITIES:
Project management responsibilities include the implementation, review, coordination and completion of projects through the project management workflow established by the bank . Oversee all aspects of projects in a supporting leadership role. Works with teams to evaluate projects through developing workflows and business requirements as well as oversee the completion of forms or preparation of materials for the initial project approval. Supports the project owners in successful completion of their project by helping set deadlines and milestones; reviewing budget; reviewing compliance procedure; define project scope; goals and deliverables; plan and lead project meetings; prepare meetings minutes; document and follow up on action items; identify issues or risks; track decisions; ensure testing is documented and appropriate communication, determining and assigning responsibilities; coordinating across departments and monitoring and summarizing progress of project. Prepare reports for upper management regarding status of project.
Oversee and coach through the validation process so that project owners are held accountable with respect to compliance, budgetary and due diligence aspects of the project. PMO is responsible for the validation step to ensure any business unit is aware and can support the project.
Managing, partnering and influencing the stakeholders towards the goal of completing project milestones on schedule noting in detail the issues that are blocking critical task completion.
Assist and guide EagleBank colleagues in completing forms or preparing materials for initial project approval.
Assist in tracking projects and preparing the monthly project management report including obtaining project updates from business unit project managers.
Complete project evaluations and project assessments on new projects and closed projects. Including detailed follow up at intervals such as six and twelve months after completion.
Mentor project owners in the EagleBank project governance.
Work multiple diverse projects simultaneously
Lead classroom training on EagleBank project governance
May train/mentor project manager I
EDUCATION & EXPERIENCE:
| | | |
| --- | --- | --- |
| Education or the Equivalent | Focus or Specialty | Required/Preferred |
| High School Diploma or equivalent | | Required |
| Bachelors Degree | information management, business management, finance or related field | Preferred or 4 years additional experience in applications systems support, testing, business analysis or production implementation |
| Experience (Time desired/required) | Experience Details | Required/Preferred |
| 7 years in Project Management | Directly managing projects of a significant or complex scale. Examples would be projects impacting 5 or more departments; significant impact to customers; or requiring a minimum of 160 hours of work effort | Required |
| 3 years of supervisory experience | Supervision of a team or a leadership role | Strongly Preferred |
| 4 years working in the financial industry | Focus in areas such as commercial lending, systems, bank operations, mortgage, risk or audit | Strongly Preferred |
CERTIFICATIONS:
| | |
| --- | --- |
| Certification: | Required/Preferred |
| Project Management Professional (PMP) | Preferred |
| | |
KNOWLEDGE & SKILLS REQUIRED:
| | |
| --- | --- |
| Skillset: | Required/Preferred |
| Intermediate skill level of MS Outlook, Word, Excel and PowerPoint | Required |
| Understanding Project Management methodologies | Required |
| Ability to work with technical and business stakeholders to define business and technical requirements | Required |
| Proven ability to coordinate and facilitate meetings between vendors, management, technical resources and business users in the development of a new process/functionality | Required |
| Strong understanding of data, how it is stored, and how it relates to the different functional areas within the organization | Required |
| Knowledge of core and peripheral systems of a financial institution or financial business related company | Required |
| Experience with Microsoft Project and Visio | Preferred |
81945053
81945053